It has been a while since I updated. We got little done in the way of school the week on the 16th because my grandfather passed away. We had already planned to be in Alabama for the holiday, but we left earlier than anticipated. We used the week to participate in our normal activities. We went to MOPS and Playgroup. We did start our discussion on the Letter Nn, and we finally got around to Hodge Podgeing some leaves we'd collected.
We packed and left for Alabama on Friday- which is usually our busy school day. We did do a lot of school in Alabama. There isn't much to do in the thriving Metropolis of Marion, Alabama. Once again, Itty Bitty Bookworm proved it's worth. It took me minutes to prepare for our study of Ten Fat Turkeys.
But First
Alphabet:
We didn't get around to our typical alphabet activities, but we did do our collage. For the letter N- we chose noodles.
Math:
After reading Ten Fat Turkeys we worked on a clothespin counting game from the IBB kit.  I even took my laminator all the way to Alabama.  To say that I am addicted to it is an understatement.  I'm so glad I chose to get the cheapy version, but once it has melted its last, I am going to get the Xyron so that I'll have the ability to make stickers and stuff.  Not that I'll actually get into it, but I'll have the ability.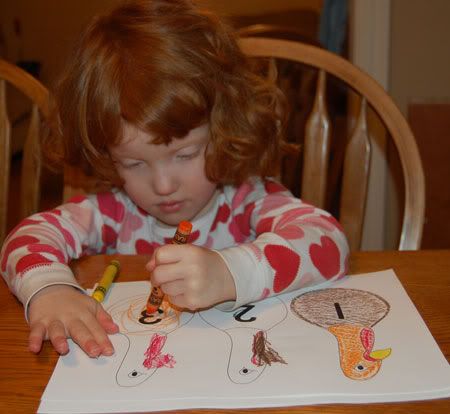 The game came in handy all week long. Tater even put some imagination into it, used the clothes pins to give the turkeys legs, and made her own little turkey army. Clothespin game in action:
On Tuesday we got up early, got all dolled up and drove an hour to the nearest Portrait Innovation. Did I mention lack of stuff in Marion? I wasn't pleased- at all- with any of the photos, so we'll be doing them again. There are 2 of us missing in this one, but we'll never manage to get all of us in one. Funny thing though- the ones IN Alabama- absent.
Life School: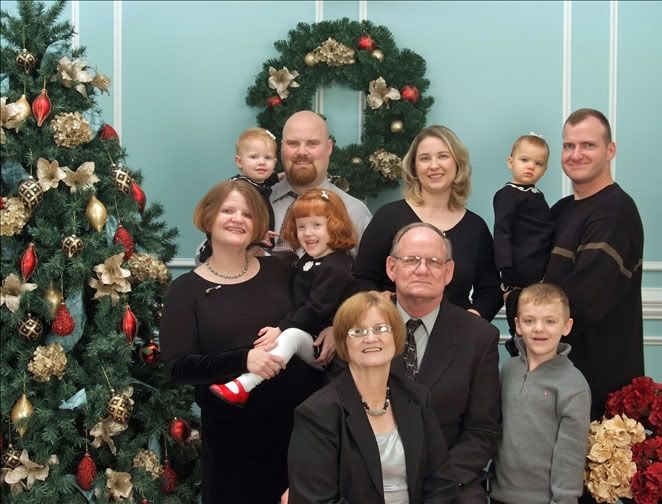 More IBB:
Wednesday, we were back to school. Daddy read Ten Fat Turkeys again. It was so cute because Tater knew the nonsense words that Daddy didn't know.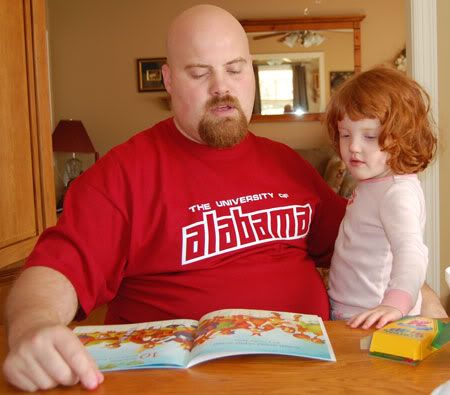 My favorite activity of the week was the hand print turkeys. We made 2 sets, one to keep and one to leave for Manini (Tater's word for my mama). The poem came from the IBB kit.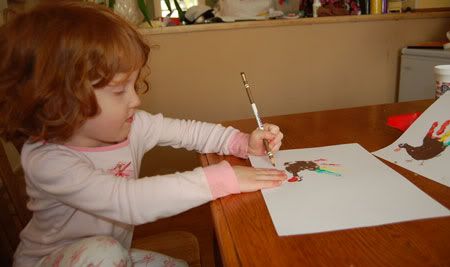 More Talkin' Turkey:
We talked about being thankful and completed this Give Thanks Turkey Craft from DLTK- Kids. I had Daddy start to help her with it, but, well, he'd be the parent doing the science project for his kid. We were just thankful to have the time with Daddy, and that he was interested- if even for a little while- in joining us.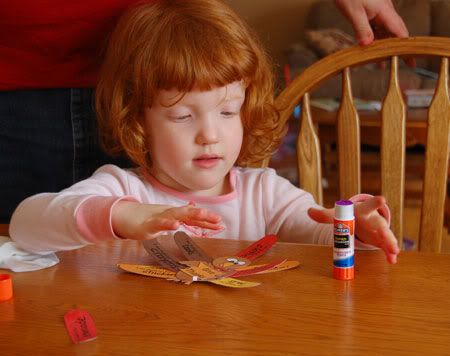 Then! Tater made a red velvet cake with Manini. I love this picture!
On Thursday, Daddy helped Ada do an itty book on the First Thanksgiving, and then we called it a week. I'm sorry that I don't remember where the booklet came from.