Shew wee.  It's been a rough week.  The trip from Alabama to Virginia was a hard one for me to recover from, and well, I still haven't.  I have loads of laundry everywhere, and I'm still not all the way unpacked.  It'll happen- or not.
Cheezer had a slow Tot School week.  She made a gift for a gift exchange in which we participated over at There's No Place Like Home Homeschooling Board.  Honestly, Tater did the bulk of the work, but Cheezer was really pleased with herself and would give a quick "Yay!" with ever sticker placed.  (For those interested, we made our own version of this ABC fishing game over at First Palette).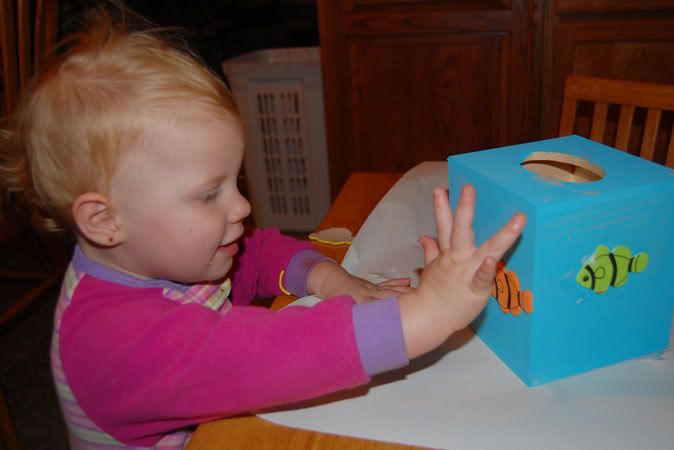 This week we went to a Kid's Cookie Party in which a table full of 3 year old's (and Cheezer) attempted to make cookies.
I am amazed at little things she's picked up by watching Tater do preschool. She "counts" to three and can do a few of her ABC's. It's nothing I've ever tried to teach her. I caught her playing with her shape sorter today. I'd gotten it out in an attempt to play with her for a few minutes, but she had more important things to do. However, she is always involved in Tater's "school". She went through several letters on Starfall.com today. There's no telling her that she isn't a "big kid".