We had a really rough start to the week. The trip home from Alabama really took it out of us- well- me. However, looking back on our pictures, we really did get a lot done.
We are proud to be Official Itty Bitty Bookworms. You can follow us, and the other official bookworms, at the IBB blog. Each of us uses it differently. We use it as he foundation of our program. Each month when I get the kit, I choose which three books we'd like to cover that month. Each month has four. Three of the four weeks introduces a letter of the alphabet, ending the month with a review.    Since we only plan for three weeks, we omit the review week.. I use the alphabet activities provided in the kit- a clip art page we use for our letter chart, and also a letter itty bitty book. It's how we always start our week. The kit provides a template for each letter, but I prefer to use the templates available at DLTK. It takes a little digging to get to them, but they include both the upper and lowercase letters.
Additionally, I use the following blogs in order to supplement our activities:
Confessions of a Homeschooler- this mama has some awesome activities on her blog. I am heartbroken when we're covering a letter she hasn't done yet. She has GREAT printables. You'll want to have a laminator, so you might resist the urge to check her out until you do.
Homeschool Creations- Jolanthe also provides a great deal of inspiration. Scroll all the way down to the bottom to "alphabet time" to see each letter's respective activities.
Refined Metals Academy- is another site that I find myself surfing to get idea for letter activities.
This is not by any means the end of our inspiration, just the sites I seem to visit weekly. I have been more than pleased with our IBB curriculum. We were set to do a unit on a title called Mmm, Cookies this week.  However, after reading the book, I decided not to use it.  The activities in the kit were wonderful, so I decided to substitute one of our favorites- If You Give a Mouse a Cookie . We'd been invited to a Kid's Cookie Party this week, and what else says Christmas like cookies!
As I said, I'd planned on taking it easy this week, but we really did get a lot done- naturally. We're going to continue our study of If You Give a Mouse a Cookie next week, and may even get motivated enough to do a lapbook from Homeschool Share. I've already printed, cut, and laminated these wonderful activities from Suite 101.com. It was the first time I had used the site. It's loaded with advertisements and difficult to navigate due to the fact, but the activities are cute.
The first thing we did this week was to start and finish the craft for our Kid's Craft Exchange at There's No Place Like Home Homeschooling Board. We took it all the way to Alabama and back without completing it. I was very proud of how they turned out, and the girls really do most of the work.  Our gift was a modified version of this ABC fishing game from First Palette.
I was disappointed to miss our monthly MOPS meeting Tuesday morning. To get our Christmas activities started on time, we did a Santa Beard Calendar and a Christmas Garland.
On Wednesday Daddy took Tater to co-op while I went to an OB appointment. There's no missing co-op.
Thursday we missed another MOPS activitity but did make our Kids Cookie Party at my girlfriend's house. Mainly, I sat and let my kids run a muck.
Friday- we managed to get down to "school". These wonderful M&M activities came from Confessions of a Homeschooler (I didn't even use half of them).
Language Arts
Pre-writing skills:
Letter Mm alphabet sort: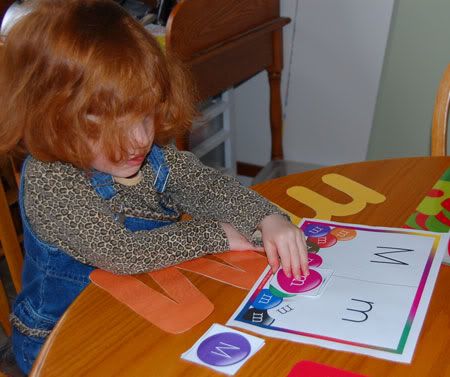 Letter Mm Chart:
I let Tater do this completely independently this week. She did a great job and was quite proud.
Math – Tater has been getting much better her letter recognition. Once we get 6, 9, and 10 out of the way she'll know 1-10. She can count, she understands one to one correspondence, just the visual recognition isn't there quite yet. We introduced the number zero. I remember struggling with the idea in the first grade, so she's already smarter than her mama!
This activity was a HUGE hit. Who doesn't love eating M&M's in school!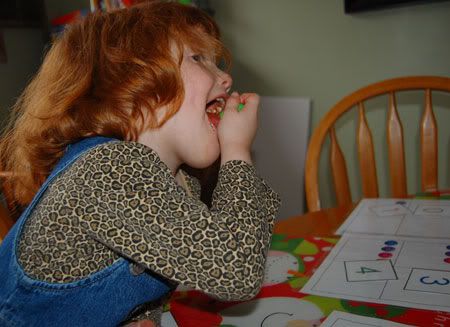 Literature
We read for 30 minutes before bed every night, however, something about reading during "school" is so calming. We stuck to the series for our school books. I picked up two more at Kohl's this afternoon that we'll include next week.
Life School- I can't believe I've never thought to get Daddy to take a picture, but one a month they trudge out to Home Depot or Lowes for one of their Kids How-To clinics. Home Depot hosts a Kids Workshop on the first Saturday of every month. It is designed for children aged 5-12, but Tater has no problem completing the project. Home Depot seems to have less- commercial, more useful projects than Lowes. I was kind of surprised when I saw the pictures that they used no goggles, but I'll give them the benefit of the doubt and assume they were out. For completing the project, each child gets a pin and a certificate of completion. Both stores offer a kid's sized apron to keep and take home.
Lowes has their Build and Grow Clinics more often- so far every Saturday this week. You sign up on line in order to participate. Each child gets an apron, a patch to commemorate that activity, and a pair of safety goggles. Again, Tater has no problem participating in the activities. She loves to go "build" with Daddy. Mama enjoys the Saturday morning break.
To see what other preschoolers did this week, please visit Preschool Corner